Mommy of 1 spunky girl | Lover of life | Ambitious entrepreneur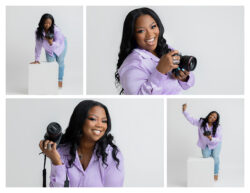 I am a Seattle native and proud graduate of Garfield High School and the University of Washington. After completing half of my masters degree in early childhood education, I ditched my plans to start my own learning center and decided to follow my heart and do what I love.
Starting Emazing Photography, LLC in March 2013, was one of the best decisions I have ever made. I have been a full time photographer since 2018 and I now have a beautiful natural light photography studio in the downtown Seattle, Lower Queen Anne area.
What I enjoy most about my job is making people feel beautiful and providing people with high qaulity images that will last a lifetime. Maternity & family portraits, weddings and branding photography are some of my favorite things to capture. Photographing people during some of the most important & special moments of their lives does my heart good.
Freezing time and creating priceless images for people is my life purpose and passion.
Let's make M A G I C!
I want to attract clients that strongly connect with my work. Clients that see my photography and say;
"I love that image" "I love the look of her photos" "Her editing style is fire" "I want Emazing to take my photos"
The subtle moments that you weren't expecting, the genuine look into each other's eyes, your children laughing uncontrollably… those are the images I want to capture. I want each of my client's to truly enjoy their photo session & leave our time together excited about their experience.
Words that describe my editing vibe: warm | moody | contrast-y | sharp | creative | muted tones
I like high energy and good vibes during photo sessions. I try to create a fun and unique experience for each client. I work best when my client's have a clear goal and communicate their needs with me. I want you to love your photos, so working well together will help bring your vision to life.
These are a few of my favorite things (& people): Emiyah, TyTy, names & most things that start with E, elephants, tulips, lumpia, big curly hair, the color black, vacations & travel, relaxation, jamba juice, mexican food, good laughs, real friends, palm trees, beaches, being pampered, journaling, sleep, movie nights and diamonds.